1:1 Readiness Session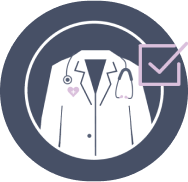 Find out if you're exam day ready by signing up for a 1:1 session! We have completed thousands of these 1:1 sessions for our live study group students, and they have consistently been an effective tool in determining readiness and increasing confidence levels! We are only offering limited spots each month to the public. If no dates are listed on Calendly, it is because this month is sold out.
What to expect:
Most students tend to schedule 1:1 sessions anywhere from 4 days to 2 weeks prior to their exam. Please note that we do not permit 1:1 sessions within 72 hours of your scheduled exam date
Once you schedule and pay for your session through Calendly, you will be paired with a member of our NP success team and receive an email confirmation with a Zoom link for your session.
During this session, you have the ability to be quizzed on specific topics or at random to simulate your exam day experience.
At the end of your session, you will be told whether you are ready to test. If you are not ready quite yet - no worries! You will then be given a game plan on how to move forward and reconfigure your studying process for success.